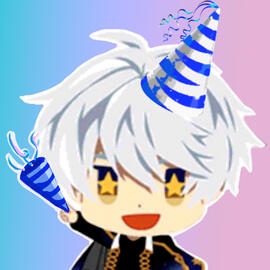 Solomon Birthday Collab '21
Welcome to the collab event for Solomon's Birthday 2021!
---
Applications are currently open!

This is a SFW collaboration project for Obey Me! fans around the world to celebrate Solomon's birthday. Artists and writers will be paired up to explore one of 25 different themes.

We will use the hashtag #SolomonBdayCollab.

Please read through for rules, dates, and all other info!
General Rules
For artists: No MCs please, unless it is the sheep MC.

For writers: You can include an MC, but please no names and make them gender neutral, or have a gender neutral reader.

We will not be accepting NSFW content for this collab.

While this is to celebrate Solomon, you can draw and write him with other characters as well! Just make sure that Solomon is the focus/star!

That said, ships with canon characters are allowed -- with the exception of underage characters, aka Luke.
FAQ
Q: How will pairings be determined?
A: In determining the artist/writer match-ups, we will be considering time zone for ease, and people's preferred theme(s).

Q: What happens if there are more writers than artists or vice versa for the pair-ups?
A: Depending on the number of participants per category we get, we may ask you to pair up with more than one writer/artist. There is a question on the contributor application for participants to mark whether they are open to doing more than one piece if needed.

Q: What types of fics should writers contribute?
A: Any genre is allowed as long as it matches your given theme and has been agreed upon with your artist! However, please note that NSFW content is prohibited, as we are aiming to keep this a safe-for-work event. Suggestive fade-to-black is fine, but please leave out anything explicit.

Q: Is there a word limit for the fics?
A: Write to your heart's content! We just ask that you have a 400 word minimum.

Q: I want to join as a contributor but I don't know if my skills are good enough.
A: Anyone is welcome to join regardless of skill level! This event is open for all Solomon fans to come together to celebrate him and his birthday, so you should feel free to participate no matter your skill level. Also, we are aware that the time for this is tight, so please do not feel like you have to make a masterpiece! It's all in good fun.

Q: Is there any age restriction for participation?
A: There is no age restriction on who can participate. However, please be aware that this event is being organized by adult fans. If this makes you uncomfortable, we recommend you not to join.
Schedule
Application Period: November 7-12
Pairing Announcements: November 14
Submission Deadline: December 7
Submission Publication: December 8 - 9
Contributors
| Theme | Artists | Writers |
| --- | --- | --- |
| Animals | Mitsu (Twitter) | Cactus (Instagram, Tumblr) |
| Cooking | Estelle (Twitter) | Coryn (Twitter) |
| Curiosity | Ari (Instagram, Twitter) | Nico (Tumblr) |
| Demons | Cloud (Tumblr, Twitter) | Jinx (Tumblr, Twitter) |
| Demons | Steph (Twitter) | James (Twitter) |
| Fate | Judith (Twitter) | BeelsBae (Twitter) |
| Garden | Hoots (Twitter) | Aly (Twitter) |
| Garden | Mochi (Instagram) | Oliver (Instagram, Tumblr) |
| Grief | Tia (Instagram, Twitter) | Lusus (Tumblr) |
| Humanity | Lusus (Tumblr) | Amelli (Tumblr, Twitter) |
| Immortality | Matt (Tumblr, Twitter) | Kai (Tumblr, Twitter) |
| Immortality | Vie (Twitter) | Steph (Twitter) |
| King | Rosa (Instagram, Twitter) | Murky (Instagram, Tumblr, Twitter) |
| Magic | Mie (Twitter) | Scarlet (Tumblr, Twitter) |
| Magic | Iah (Instagram, Tumblr, Twitter) | Rin (Tumblr, Twitter) |
| Memory | Migi-chan (Instagram, Twitter) | Liouni (Twitter) |
| Mentor | Kelly (Twitter) | Kenna (Tumblr, Twitter) |
| Protection | Alex (Instagram) | Coni (Instagram, Twitter) |
| Ringmaster | Iannis (Instagram, Twitter) | Soie (Twitter) |
| Ruins | Cosmos (Instagram, Tumblr, Twitter) | Chaos (Twitter) |
| Secret | Mosey (Tumblr) | Kaymiiho (Twitter) |
| Stars | Leon (Instagram) | Cori (Tumblr) |
| Stars | Grace (Twitter) | Elvishdork (Tumblr, Twitter) |
| Trust | Charlize (Instagram) | Angst (Tumblr) |
| Wisdom | NaiNai (Twitter) | Snail (Tumblr) |